Home Fire Stove & Grill City Blog
---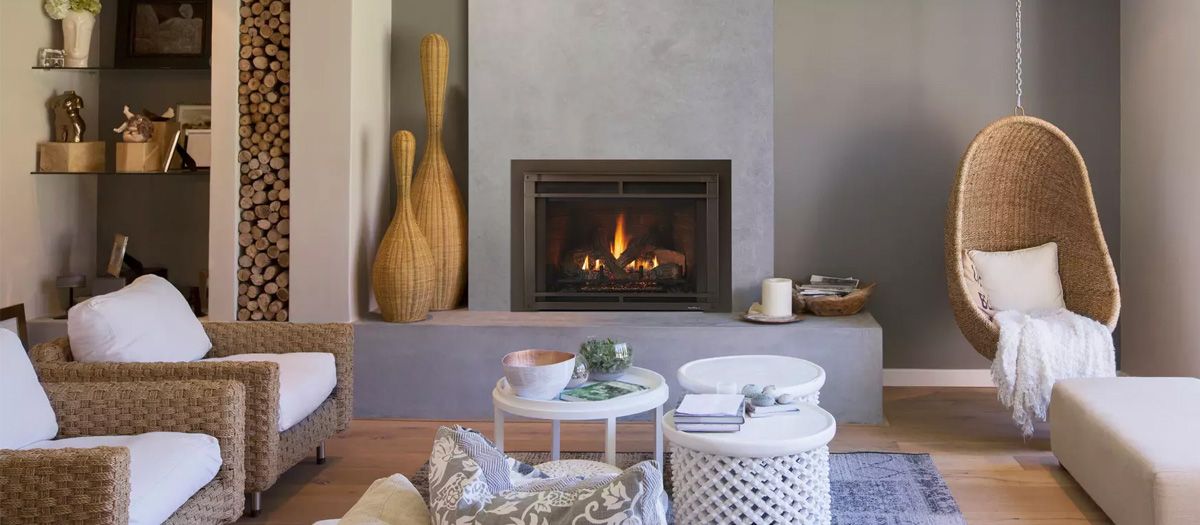 Gas Fireplaces: Repair or Replace? Make the Right Choice for Your Home
by Home Fire Stove Staff on
May 1, 2023
Is your gas fireplace not functioning as it should, or does it look outdated in your home? Deciding between repairing and replacing it can be a challenge. Just like furnaces, fireplaces have a lifespan. The available options can be overwhelming, but with expert guidance and some research, making an informed decision doesn't have to be daunting.
When Should You Consider Repairing or Replacing a Gas Fireplace?
Some common situations where homeowners will need to choose between repairing or replacing their gas fireplace are:
Lifestyle changes: Working from home or other lifestyle adjustments may impact how often you want to use your fireplace.
Purchasing a new home: You may inherit an old, nonfunctional, or style-mismatched gas fireplace.
A remodel or update to your current home: A new look or function for a room might prompt a fireplace repair or replacement. Additionally, older fireplaces may have components that can date the room once new decor or furniture is acquired.
Preparing to sell a home: A functional, up-to-date fireplace can increase your home's value and appeal to buyers.
A non-operational or malfunctioning fireplace.
Where to Start and What to Expect
Contact Home Fire Stove as soon as you know your gas fireplace may need either service or a replacement. Our reliable, trustworthy sales, service, and installation teams can help you navigate the complexities of fireplace repair and replacement.
If you're unsure about which route to take, reach out to an expert anyway. We will walk you through the process and assess your needs, lifestyle, aesthetic preferences, and budget. We'll ask questions like:
How old is your fireplace?
How long do you plan to stay in your home?
How and how often will you use your fireplace?
What is the condition of your current fireplace and surround?
How does the design of your fireplace and surround fit (or not) into your decor style?
When to Repair Your Gas Fireplace
Repairs are typically reserved for functional improvements. Repairing a fireplace means extending its life with new components but doesn't change its look or efficiency. Repairing your gas fireplace may be the better option if:
The existing fireplace still fits your home aesthetically.
There's a minor mechanical problem or broken part.
The current fireplace is still somewhat new.
You're happy with the features of your current fireplace.
When to Replace a Gas Fireplace
Consider replacing your gas fireplace if:
The fireplace is out of date.
It needs significant or constant repair.
You also want to replace or update the facing or surround material.
You plan to sell your home.
You want to use your fireplace more.
You want the latest gas hearth features.
Benefits of Replacing a Gas Fireplace
Replacing your gas fireplace offers many benefits:
Access to the latest tech options.
A more contemporary look.
A better return on investment.
Peace of mind.
How to Get Started
To begin the process of replacing your gas fireplace, start by researching products online to determine the style and price range you want. Social media platforms like Pinterest, Instagram, and Houzz can also provide inspiration.
When you're ready to reach out to us here at Home Fire Stove, you can start the process from the comfort of your home by taking photos of your fireplace and discussing options virtually.
Act as soon as possible—no matter what you ultimately decide. Putting off a major remodeling project may lead to increased costs in the future. If you've made the decision and the commitment to invest in your fireplace, it's best to do it sooner rather than later.
back